Veronica Patterson

Biography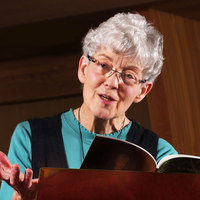 Veronica Patterson received Individual Artist's Fellowships from the Colorado Council on the Arts in 1984 and 1997 and has had residencies at the Ucross Foundation, Hedgebrook, and Rocky Mountain National Park. She is a graduate of Cornell University, the University of Michigan and the University of Northern Colorado. She also holds an MFA in Creative Writing from Warren Wilson College.
Veronica Patterson was named Loveland's first Poet Laureate May 19, 2019; it is a two-year term.
Patterson lives and writes in Loveland, Colorado, at the foot of the Rocky Mountains.
"Patterson's 'I' is radiant: 'I stand at the corner of light, 
cold-tongued and astonished'."
 ~ Tom D'Evelyn, The Providence Sunday Journal
"She savors the language . . . Her emotion, in variations from regular and subtle blank verse to long and short free lines and prose, is subtly registered . . ."
 ~ Charles Guenther, St. Louis Post-Dispatch
Patterson's poems have appeared in numerous publications including: 
    
    The Southern Poetry Review
    The Louisville Review
    The Sun
    The Madison Review
    The Malahat Review
    The Indiana Review
    Another Chicago Magazine
    The Mid-American Review
    The Willow Review
    The Montserrat Review
    The Bloomsbury Review
    Willow Springs
    The Colorado Review
    The Midwest Quarterly
    Many Mountains Moving
    Coal City Review
    New Letters
Her poem "Postcards" won first place in the Peregrine poetry contest (Amherst Writers and Artists), and her poem "Three Photographs Not of My Father" won first prize in the 1997 Salt Hill Journal poetry competition at Syracuse University. 
Her essay "Comfort Me with Apples" appeared in the Spring 1997 The Georgia Review.
COLLECTED WORKS
Patterson's collected works include Sudden White Fan, 2018 and Swan, What Shores? which was a finalist for the Academy of American Poets' 2000 James Laughlin Award and won annual poetry awards from both the Colorado Center for the Book and Women Writing the West. 
   
How to Make a Terrarium
Cleveland State University, 1987 
 
This Is the Strange Part
Pudding House Publications, 2002


She has also published a collection of her poetry and the photography of Ronda Stone, The Bones Remember: A Dialogue  (Stone Graphics Press, copies available from the author here).
Patterson has taught classes and led workshops, including one for adults grieving the loss of a loved one. This innovative workshop was developed and is presented in conjunction with Nancy Jakobsson, Pathways Services Director, Pathways Hospice of Larimer County.
My Griefs to Sing, by Veronica Patterson with Nancy Jakobsson, published by and is available through Pathways Hospice, captures ten years' experience with the Writing Through Loss workshop. The easy-to-use book presents the workshop structure, weekly writing prompts, brief essays on grief issues, and examples of participants' work.